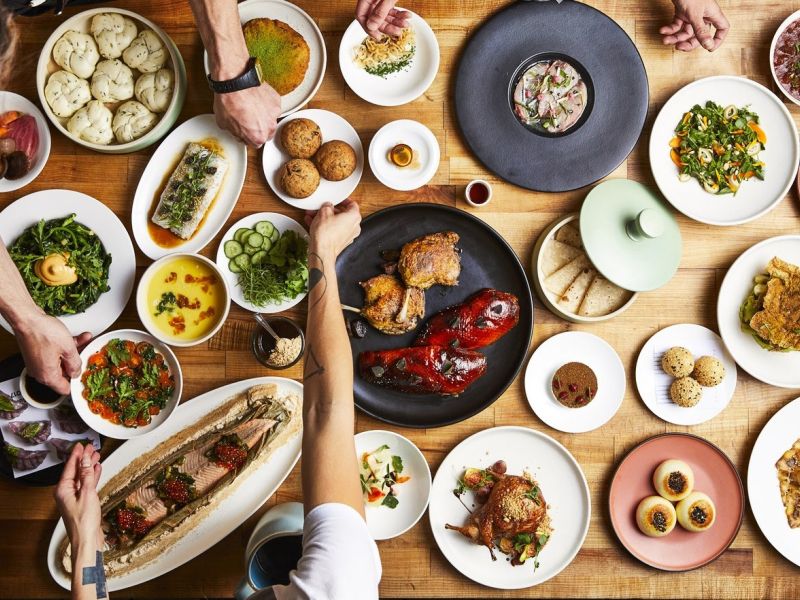 The Mad Agriculture Journal
Published on
June 01, 2020
Written by
Karen Leibowitz & Anthony Myint
A Table to Farm Movement to Solve Climate Change
Over the past few years, we've bumped into Mad Agriculture in so many places—both virtual and real—but the first time we met Phil Taylor was on a summer day in Salina, Kansas.
At the time, we were running a restaurant in San Francisco called The Perennial, championing carbon ranched beef, regenerative agriculture, and Kernza sourdough, which is what brought us to Kansas for an event that the New York Times referred to as "an intellectual hootenanny." There we were, leaning on hay bales, talking with a poet/bio-geo-chemist, wearing a perennial grains trucker hat, who was, coincidentally, also trying to unlock the potential of black soldier flies.
It's hard to believe how much has changed in the past three years, or even in the past three months! We definitely aren't in Kansas anymore. We've closed The Perennial to focus on our nonprofit, Zero Foodprint (though we're still partners in a blessedly weird restaurant called Mission Chinese Food); Mad Ag has launched The Perennial Fund, and built an impressive set of regenerative programs; and we've both gotten Conservation Innovation Grants from the Natural Resources Conservation Service. Through all these changes, we've kept in touch as we've all tried to solve big societal and environmental problems through food and farming, and ultimately, it seems that we independently arrived at the same straightforward idea, which is pretty far afield from black soldier flies.
We both believe that saving the world comes down to bringing people together to improve soil health, a few acres at a time.
Historically, the good food movement has championed great farming, but the theory of change has been focused on creating demand and market premiums for great products, and then merely hoping the market changes in response. Zero Foodprint is different. We're bringing together the expertise of scientists, agro-ecologists and farmers to make it possible for all of us to add a few cents per meal and directly make change (instead of just a few of us paying a lot and making good choices).
Right before the pandemic hit, we launched a program called Restore California in collaboration with our state's Healthy Soils Program. We've teamed up with Mad Ag to bring an analogous program to Colorado.
The idea of Restore Colorado comes down to resilience. Citizens are increasingly aware of the importance of a food system that can weather major crises like coronavirus and climate change. Restaurants are planning for a new food economy that is unlikely to correspond to their original business plans. And regional governments are trying to combine existing carbon reduction goals with a just recovery that reaches all sectors of the economy.
As we respond to the coronavirus and the climate crisis, we must chart a path toward an entirely new business as usual. And each of us has the opportunity to be part of creating an innovative and resilient solution to the most urgent challenges of our lives. Investing in the prosperity and sustainability of our regions is something we all want, and making it reality is as simple as putting a few cents per meal toward healthy, living soil on local farms.
We're so excited to be working on this with our friends at Mad Agriculture, and we can't wait for the day when we can come together in person, preferably over a good meal.
Join the Movement
California
20th Century Cafe . Atelier Crenn . Bamboo Sushi . benu . Border Grill (DTLA) . Cala . Central Kitchen . Cerf Club . Chez Panisse . Creator . flour + water . flour + water pizzeria . Glynwood Events . Gracias Madre . Handline . Lord Stanley . Mikkeller Bar (SF) . Mission Chinese Food . The Progress . Reem's California (Mission) . Socalo . Square Inc. Culinary San . Francisco . Stag Dining . State Bird Provisions . WesBurger 'N' More
Around The US
Annette (CO) . Coquine (OR) . Farm Spirit (OR) . Glady's (NY) . Mission Chinese Food NYC (NY) . Mission Chinese Food Brooklyn (NY) . Mo's Original (NY) . Pinch Food Design (NY) . Purslane (NY) . Rucola (NY) . Barley Swine (TX) . Bouquet (KY) . Bresca (DC) . Emmer & Rye (TX) . Chook (CO) . Serendipity Catering (CO)
Around the World
Carmen Restaurante (Colombia) . Hyggestund (Denmark) . La Neta Nørrebro (Denmark) . La Neta Vesterbro (Denmark) . Mono (Hong Kong) . noma (Denmark) . øl & Brød (Denmark . Ramen to Biiru Nørrebro (Denmark) . Ramen to Biiru Vesterbro (Denmark) . Ramen to Biiru østerbro (Denmark) . Ramen to Biiru Frederiksberg (Denmark) . Selma (Denmark) . Vesterbro Chinese Food (Denmark) . WarPigs* (Denmark)


For more information, reach out to tiffany@zerofoodprint.org or jane@madagriculture.org.