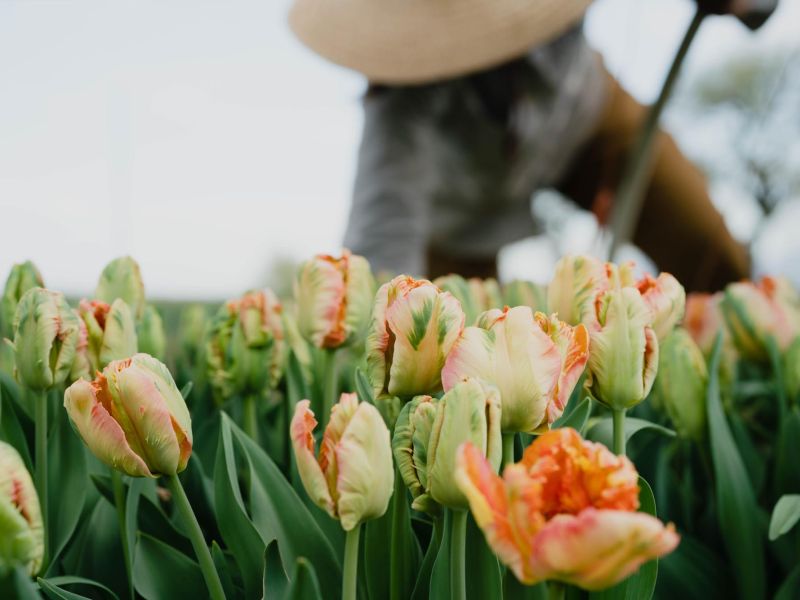 The Mad Agriculture Journal
Bread for all, and roses too
Published on
November 14, 2022
Photos
Nelson Esseveld
Sophia Piña-McMahon
In the early 20th century, American women's suffrage activist Helen Todd gave a speech that called for "bread for all, and roses too." The line inspired a poem by James Oppenheim, "Bread and Roses," and became the call of the Bread and Roses Strike of 1912, when textile workers in Massachusetts demanded both fair wages and dignified working conditions. In 2019, it was the rallying cry of the Women's March in London. 
"As human beings, we deserve to not only survive our daily lives, but also to fucking enjoy them," says Helen Skiba, Co-Owner of Artemis Flower Farm in Longmont, Colorado, and Education Chair of the Flatirons Farmers Coalition. "We all deserve bread and roses, too."
Skiba has been farming for nine seasons, along with her partner, Nelson Esseveld. She started her business in 2014, adapting the name Artemis Flower Farm this year. For two years, the farm was without land, and during that time Skiba worked as the Flower Manager at a large local market-focused vegetable farm. For Skiba, flowers provide that everyday joy we all deserve—and not simply because they're beautiful.
"Part of what makes us [humans] interesting creatures is our ability to appreciate beauty, to experience these moments of connection with the Earth," says Skiba. "That's a gift that I don't think we cherish enough…appreciating something just for the way it is."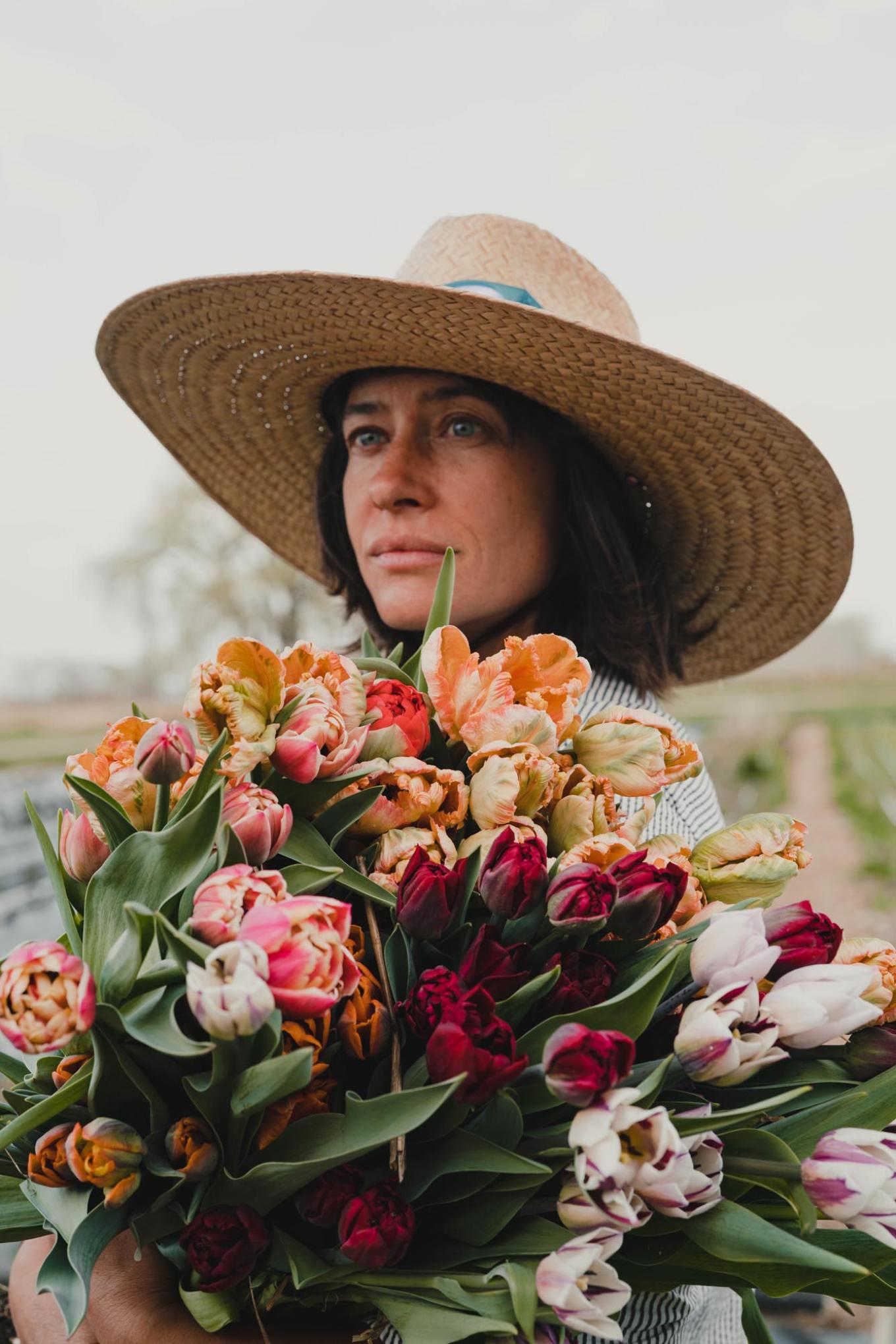 Flowers aren't farmed simply for their utility. They're not measured in calories or nutrients. Instead, a beautiful floral bouquet sitting on the table invites you to pay attention to what's in front of you, says Skiba. It's a grounding reminder that these flowers, this moment, and life itself is fleeting and impermanent.
But right now, "small-scale flower farming is like a needle in the haystack." Skiba says locally grown flowers remain somewhat invisible to the general public. There hasn't been a local flower movement like there was a local food movement.
"Flowers are an agricultural commodity, a crop, a living thing," says Skiba. "I don't think people understand that somebody grows those. They're grown in soil."
Even among fellow farmers, Skiba says the value of flower farming isn't widely appreciated. Many have the impression that flowers are an easier crop to farm.
"I think that it has a lot to do with the conflation of flowers and femininity, and the devaluation of women and femininity in our culture," says Skiba. "Is it just that they're flowers, and so they're feminine, and so it must not be hard because women can't do things that are hard?"
Skiba says that—while any type of farming is hard—growing flowers presents many unique challenges. Compared to vegetable crops, flowers take longer to germinate and grow, and they produce much more biomass. And for a flower farmer, aesthetic is critical. There's no market for damaged flowers.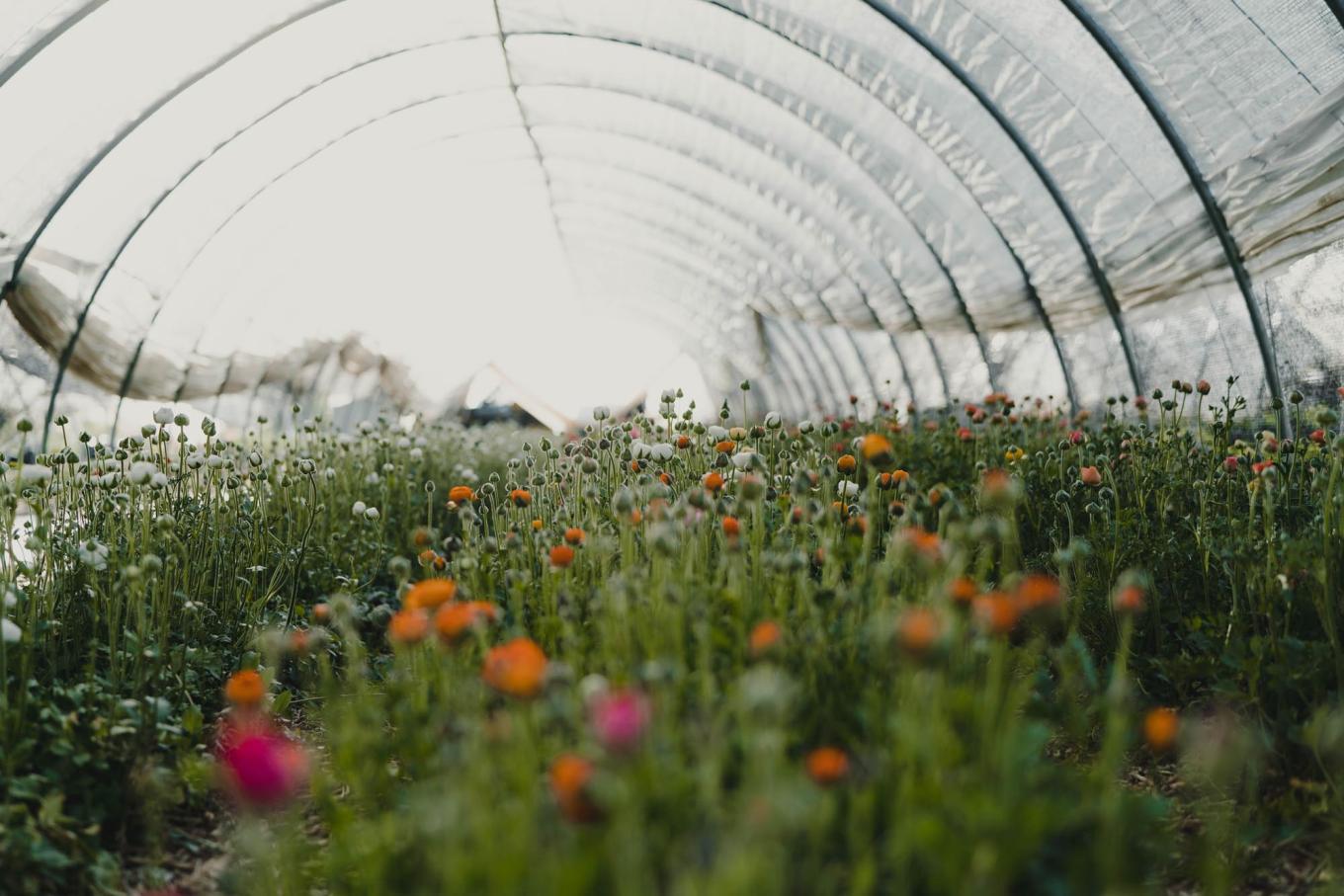 Today, commercial flower farms are heavily capitalized, mechanized, and automated. According to the Society of American Florists, 80 percent of cut flowers sold in the U.S. are grown internationally, mostly in Colombia and Ecuador. And of the 20 percent grown domestically, more than three-fourths come from California.
"There are greenhouses where they're growing tulips and no human being ever touches them," says Skiba. "They're basically factories for flowers."
For consumers looking to reduce their carbon footprint, locally grown bouquets go a long way compared to those purchased at a conventional grocery store. Skiba and Esseveld's flowers often travel just a few miles, as opposed to those harvested on another continent, transported in refrigerated freights, flown on refrigerated jets, and distributed across the U.S. through local florists. 
Artemis Flower Farm practices a completely different kind of farming, and it's an inherently sustainable and regenerative pursuit, says Skiba.
Skiba and Esseveld grow more than 100 different species of plants on just 1.25 acres. They practice principles of soil health like not tilling, keeping the ground covered, and cultivating bacteria, fungi, nematodes, and arthropods. The farm is teeming with different kinds of bugs, bees, butterflies, and birds. 
Because many of the farm's cash crops are perennial, they can be left in the soil undisturbed. Caryopteris flower bushes, for example, provide habitat for birds, animals, and insects over the winter while acting as windbreaks for the rest of the farm. 
"We're creating a microclimate," says Skiba.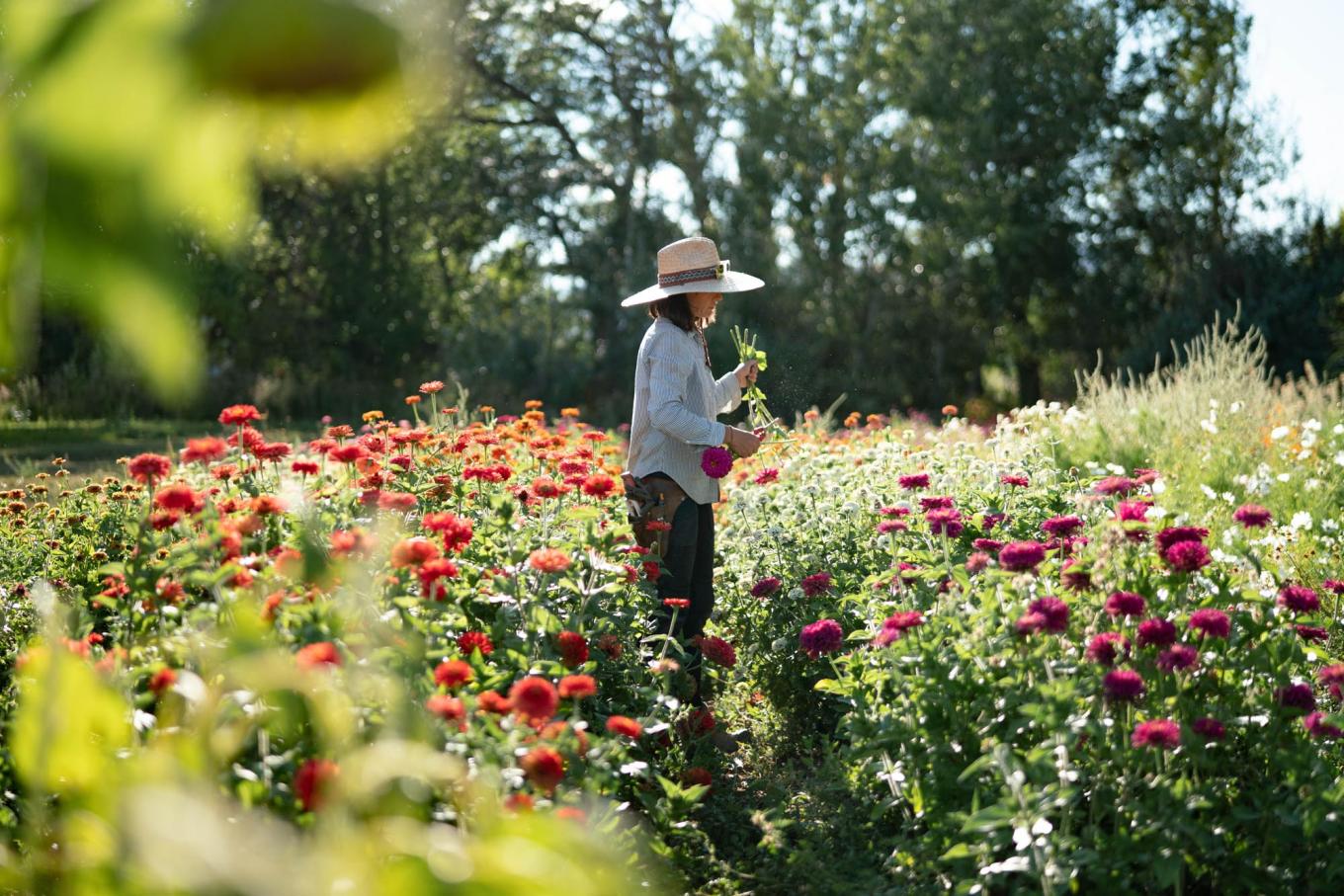 Artemis Flower Farm shares land with two other producers, Speedwell Farm & Gardens and The Jolly Radish, as part of the Treehouse Farm Collective. This provides a critical support system, says Skiba, and allows them to combine resources for larger land stewardship work. 
The Collective's soil is still in transition. The land was a highly tilled hemp farm until it was purchased in 2021, and before that, it was a feedlot. Skiba tries to remember that, "because soil is on a geologic timescale," she has to be patient.
In the meantime, Skiba enjoys sharing Artemis Flowers as a creative outlet for the community. She hosts workshops for the public on floral design, dahlia dividing, growing flowers from seed, and making centerpieces and flower crowns.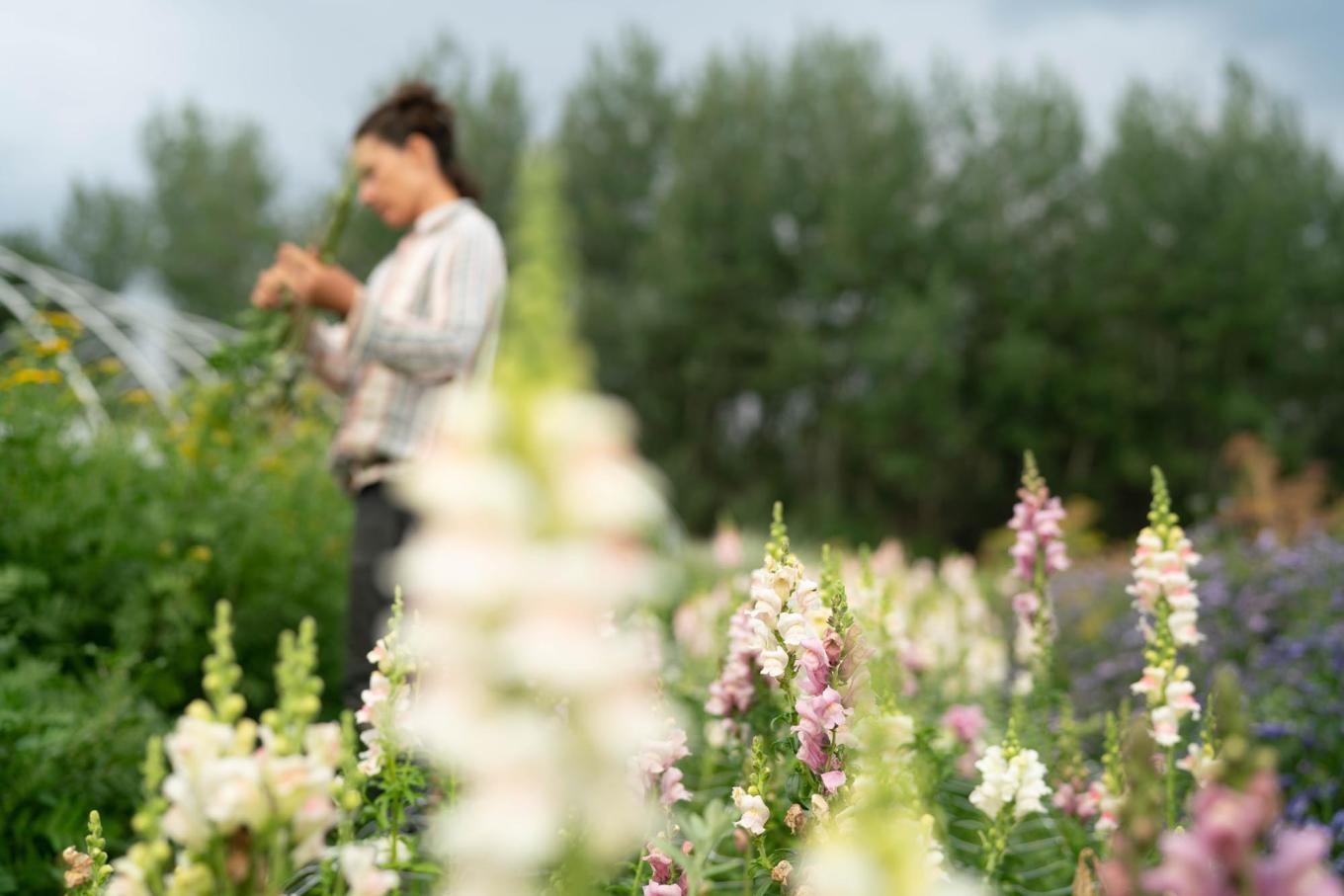 "You don't need to be an artist. All you need is your hands and a pair of scissors, and you can make something really, really beautiful out of what is already here for you to play with," says Skiba.
Part of play, for Skiba, is simply being grounded in what's in front of her; accepting and embracing the changes that each day brings. She tries to see the challenge and thrill of farming in a similar light.
"I really enjoy the fact that I'm never going to get this right. I'm never going to understand everything that's going on in the farm," says Skiba. "So, because of that, you have to just enjoy it. You have to just enjoy being here and meeting the simple goals that you can give yourself for the day, or the week, or the season."
Farming flowers is a never-ending journey of discovery for Skiba, and that's one of the best parts. She finds joy in seeing and sharing the mysteries of the natural world. "And that feels like something worth dedicating your life to," she says.