The Mad Agriculture Journal
Researching Regenerative Orcharding
Published on
July 06, 2023
Written by
Sophia Piña-McMahon
This month, we're highlighting an outstanding project from our friends and partners in all things regeneration and holistic design at Drylands Agroecology Research (DAR). Based in Boulder, Colorado and led by Co-Executive Directors Nick DiDomenico and Marissa Pulaski, DAR specializes in restoring the Earth and our communities through regenerative design. Their team consults across several landbases in the Front Range agricultural community to transform dry, abandoned, and marginalized landscapes into lush ecosystems where all living things can thrive.
Mad Agriculture and DAR began collaborating in 2021 when DAR was awarded a Restore Grant from Zero Foodprint to apply compost across 20 acres of their working rangeland, silvopasture and croplands. Their Restore project was a major success, and more recently, the Mad Lands and Mad Media teams were able to catch up with DAR and check out their latest project: the transformation of a parcel of farmland in Longmont, Colorado.
Previously used for growing hops, the farmland was purchased by new owners in 2019–Lauren Menschel and Vance Jacobs–who wanted to see it transformed in support of local and regenerative agriculture. They reached out to Mad Agriculture to see what was possible, and we connected them with DAR as a prospective partner in helping to regenerate the property. Together, the landowners and the DAR team developed a shared vision for the property as an orchard, market garden, and event space.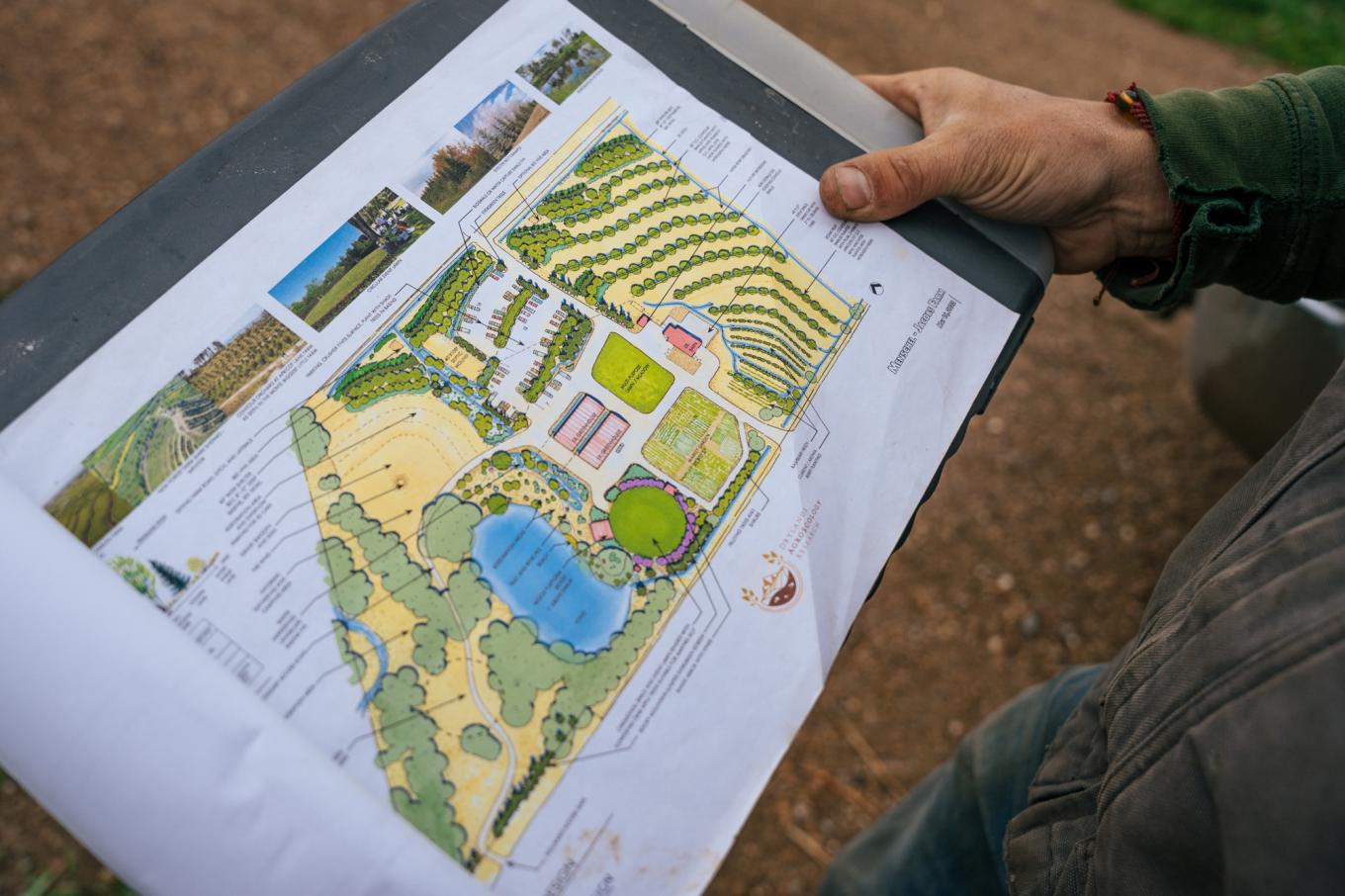 One of the reasons the team decided to plant an orchard was to reconnect the landbase with the Front Range's rich history of orcharding activity. In the early 1900s, Lyons and Boulder were particularly vibrant orcharding areas. DiDomenico himself grew up in Boulder, and fondly remembers interacting with old, wild fruit trees as a child. "When I was a kid," he said, "I'd always go harvest wild fruits or semi-wild fruits that had naturalized here in the waterways and canyons." He even recalled a road that still exists in Lyons called Apple Valley Road, named for its location amongst a previously popular area for apple orcharding.
Today, fruit tree operations are no longer seen as viable in the Front Range region due to threats like seasonal blight and the common occurrence of early and late season frosts. Most of the state's fruit production has moved to the Western Slope region, where producers experience more stability in climate. However, regenerative agriculture and holistic design have the potential to be used as tools to manage the issues commonly experienced in Front Range orcharding operations. At their new project site, DAR is researching and demonstrating how to do just that: viable orcharding through agroforestry.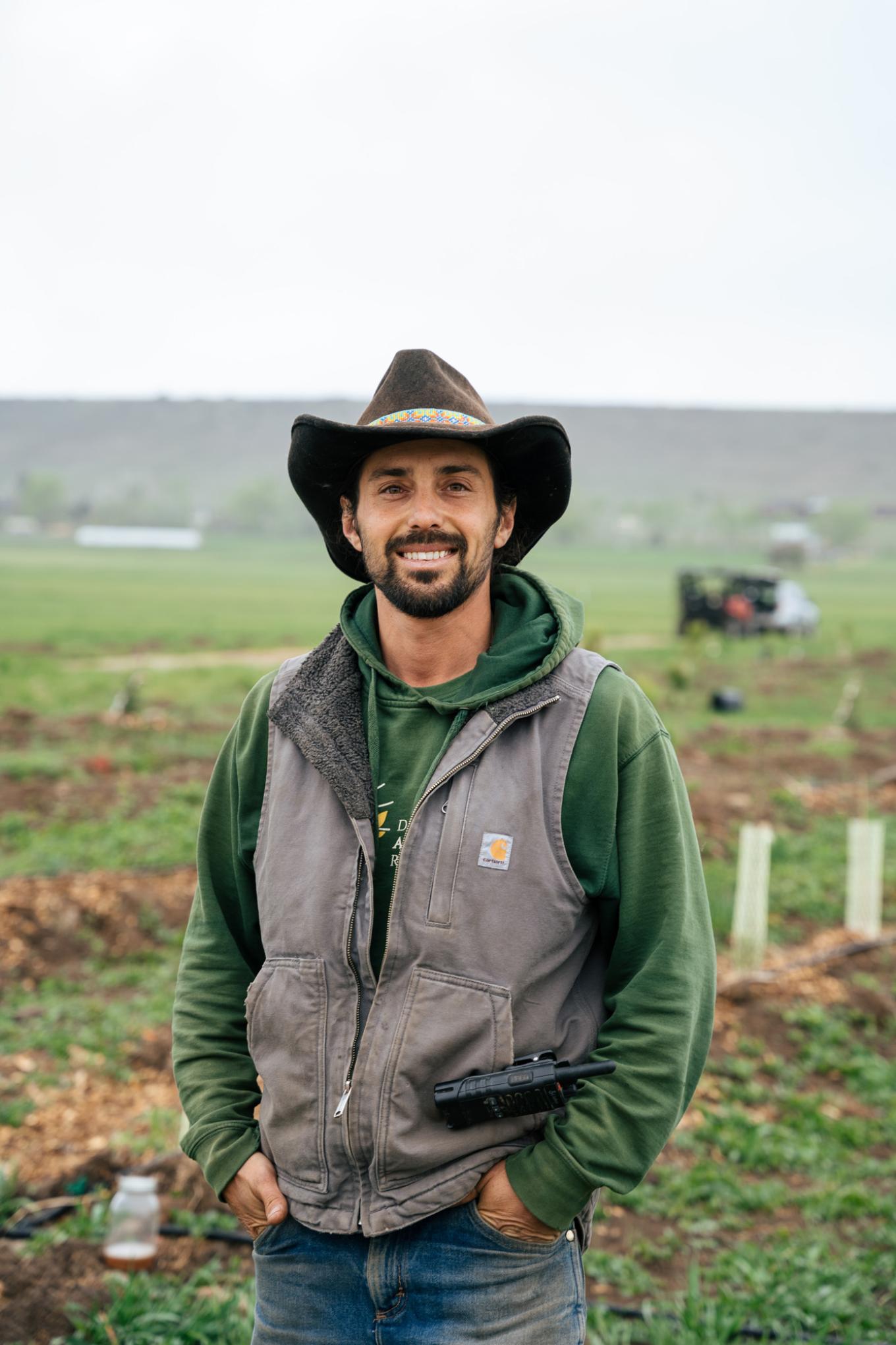 The soon-to-be orchard and event space is packed with regenerative tools and spaces to bring the land back to life. Between rows of fruit trees, DAR built contour alleys that would be easy to graze livestock (chickens, sheep, cows, and/or pigs) through in the future, when fruit is dropping. They designed the contour swales in such a way that the field could be flood irrigated after the orchard is established, and also disperse water evenly to all the trees. DAR also planted a shelterbelt on one side of the orchard to protect the trees from wind, as well as shield them from synthetic pesticide and fertilizer contamination from nearby conventional farms. They also spread rich compost across the land to promote strong soil microbiology and prevent systemic blight.
In terms of crop specifics, the DAR team planted several late-blooming varieties of apple, pear, plum, apricot, and cherry trees in the orchard to test which fruits perform best in the region. Every row of the orchard alternates between tree types: first an apple and pear row, then a prunus row (plums), then apple and pears again, then another prunus row (cherry and apricot), and so on. The high diversity of cultivars in a single area both attracts beneficial insects to the ecosystem and confuses common pests like codling moths, which has an easier time infiltrating monoculture orchards.
DAR hopes that in five years, the orchard will be bearing fruit and the ecosystem will be flourishing with a more diverse ecology–one that can support orcharding in the Front Range again as a viable, productive, regenerative system. And while this alone is exciting, the cherry on top is the fact that the public will get to experience the revitalized land firsthand, through its additional use as an event space and wedding venue.
Learn more about DAR and their consulting services at www.dar.eco!